DVS MACHINE TOOLS & AUTOMATION
Innovative binding defies even aggressive coolants
The new "NXplus" bond system protects the service life and precision of resin bonded grinding tools.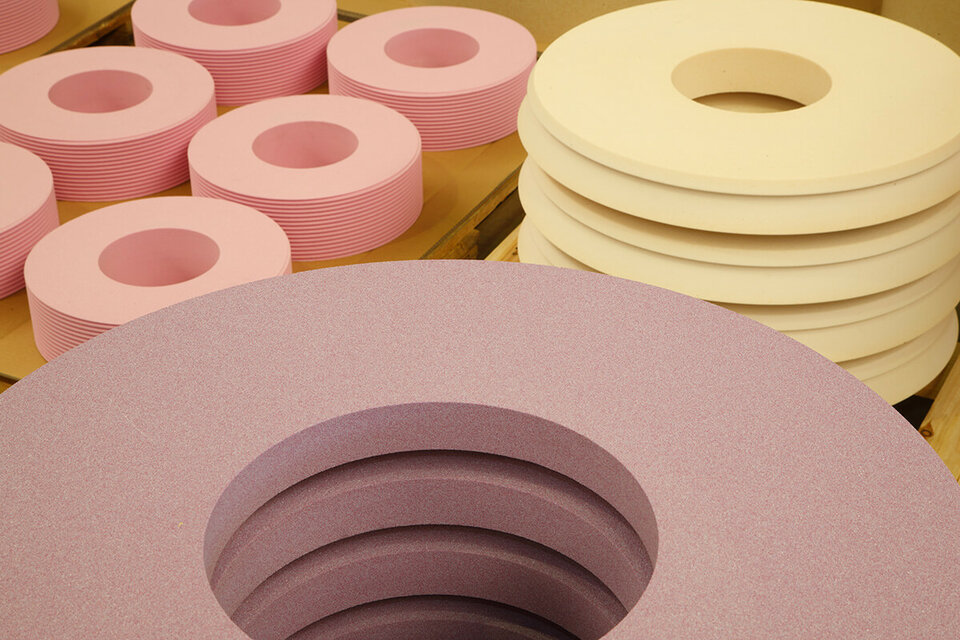 Corrosion is the enemy of every machining operation. Previously high-precision machined components become useless if they have been stored or transported incorrectly and start to rust. Protective coatings or corrosion protection films are therefore used to protect the components after machining. The manufacturers of cooling emulsions also contribute to this. Only recently, they took a new development step in corrosion protection and can now guarantee corrosion protection of up to 12 months if stored properly. This positive development unfortunately has a very negative effect on grinding applications, as the improved corrosion protection of the cooling emulsions causes an aggressive chemical reaction with the grain bond of the resin-bonded grinding wheels. Faster wear of the grinding wheel is the result.
More durable and precise despite aggressive coolant
This prompted the manufacturer of precision grinding wheels NAXOS-DISKUS Schleifmittelwerke from Butzbach in Hesse to develop a more robust bond. The result, the bond system NXplus, was specially adapted to the chemical properties of corrosion-protecting coolant. It consistently ensures that the grinding wheel can perform its task reliably and with high precision. This was the result of initial series of tests on surface grinding machines from the sister company DISKUS WERKE Schleiftechnik. The optimised bonding strength and temperature resistance of the NXplus surface grinding wheels result in a significantly longer tool life. A positive characteristic, which of course also holds true when using milder cooling lubricants. Thanks to the more robust tool composition, users can also achieve higher infeeds and feed rates and thus make the grinding process more efficient. The damping behaviour of the grinding wheels also benefits from the new bond system. Unwanted vibrations can be absorbed more effectively, thus increasing the reliability and precision of the grinding process. Together with its sister company DISKUS WERKE Schleiftechnik, NAXOS-DISKUS offers the new resin-bonded NXplus bond as a system solution for single and double-sided face grinding. And with success.
Proven in practice
At a joint customer of DISKUS WERKE Schleiftechnik and NAXOS-DISKUS, the new bond already proved to be very robust and reliable. After changing to a coolant with improved corrosion protection, the service life of the grinding wheel was drastically reduced when grinding guide rails. Suddenly, compared to machining with the previous coolant, only just under half the number of components could be produced with one grinding wheel. By switching to the new bond system NXPlus, the original tool life could be restored. Thanks to the good damping properties and the optimised bonding strength of the new NXplus bond, the grinding wheels also produced significantly fewer grinding commas (score-like damage to the workpiece surface). On the user's side, one of the original four machining operations was thus saved, which means that thanks to the NXplus bond, the same number of components can now be produced in a shorter overall throughput time.
These articles may also be of interest to you